A lot of people talk about finding their 'soulmate'.  It's a beautiful term, 'soulmate' but it's been overused and it has created an infatuation with an idea and ideal that's found only in the movies and in the songs on the radio. AND WHAT THEY DESCRIBE IS JUST NOT REAL!

What IS real is that you FIRST need to connect with YOUR OWN HEART, YOUR OWN SOUL, YOUR TRUE SOULMATE: It's THAT connection with the SELF that brings the ability to attract who you love in your life.  
And this is why I created the Soul Worthy Love online program.  I've guided thousands of people, some who have traveled thousands of miles to see me, from their needless suffering to returning to their self, but there are millions out there who need help, too.
FACT:  If you don't know who you are, and you don't know what love really is, the odds are stacked against you to find the love that is right for you!
I've guided thousands of people, some who traveled thousands of miles to see me, to go from needless suffering to fulfilment and a nurturing connection to their self, but there are millions out there who need help, too.
And this is why I created the Soul Worthy Love online program — to provide you with fundamental principles to lay a solid foundation for true love.
Soul Worthy Love is an affordable 6-month online coaching program done in the comfort of your home that will help you gain clarity, confidence and a roadmap back to YOUR SELF.  After making that connection, you'll then be prepared to attract, nurture and evolve within a committed partnership with healthy expectations for yourself and for your partner.
"This course came at a time for me that was really, really surreal, a turning point.  You have to decide you're worthy of love.  You need to make that decision.  Once you decide, the love that you are worthy of will come into your life.  And so it did for me.  I was able to find (or be found by) love and a relationship that is meaningful and soul-worthy."  ANAT, GRADUATE, SOUL WORTHY LOVE PROGRAM
Does this sound like you?
You want passion and love in your life, you want to feel alive again, but you are finding it difficult to get over the painful memories of your past failed relationships. Maybe you are afraid to admit to yourself what it is you really want because, 'what if I admit it and I can't get it' what then? Or maybe it hurts too much to have had to let go of the hopes and dreams you had about having a great relationship and family.
You go back and forth between feeling like it's better and safer to be alone and wanting passion and feeling alive again.  So you're stuck being afraid of making a mistake, of getting hurt again, of choosing the wrong guy.  Yet, there is still a little, but important part of you, that yearns to have what you have been dreaming of since you were a child: a great love, a lover, a great friend, your 'soulmate' whom you can trust with your heart.  And maybe now it's been awhile since you've been in the dating scene, you are older and may not feel confident in your body and your social skills are rusty.  You may be asking yourself, "Who's going to want me?"
Instead of facing your fears, you play it safe, you keep busy with work, children, girlfriends, staying home and doing anything but engaging in the idea of love again: It's avoidance at its best.  Now you have low grade anxiety and depression at the same time, your sleep is suffering, it's harder to focus at work and to be productive.

You have all the excuses in the world for your friends, family and yourself to delay getting back 'out there': But in the end you know that you are just trying to avoid facing your fears, which will keep you from getting what your heart really wants.

If you continue to live like this, you'll be missing out on the most beautiful and precious moments one can live.
"I've been through some great relationships and a couple of serious heartbreaks.  They taught me what I'm made of, how to get through it, to understand how to be in a relationship and what it takes to be in one.  But I hadn't yet found that one person to stick it out with, so I wanted to learn how to navigate through a more evolved relationship, an equal partnership.
Now, I'm 48, and there's a judgment because I'm not in a committed relationship yet.  And I started feeling like there was something wrong with me.  As I proceeded through Soul Worthy Love and doing my inner work,  the judgment stopped!   I felt like, "Oh my God! I think we're ACTUALLY peeling away at this."  and that I was finally getting somewhere as I was learning Dr. Lise's relationship principles.
I'm dating again, and I swore I wouldn't go on another one, but I'm actually communicating with men that are more aligned with my values." GEMMA, GRADUATE, SOUL WORTHY LOVE PROGRAM
Been There, Done That!
I grew up with parents who struggled to connect with each other. In fact, it was scary in my home. My father was an angry man.  He screamed at my mother a lot. Rather than trying to find a solution with him, she was subservient and opted instead to complain about their relationship with others. What they showed me about love got me scared about relationships right from the get-go!
Naturally, I did not learn much about love from them and what I was supposed to do to choose the right boyfriend. As long as he was cute and liked me (for whatever reason) that was good enough, so it's not surprising those relationships didn't work out!
Looking back, I was living with what felt like a hole inside of me, a low grade anxiety. It was always in the background without me being fully aware of it.  Little did I know that keeping busy with work, school, sports, anything was a way to avoid dealing with it. This lead me to disconnecting from my heart and being in my head more. I continued dating guys who were simply cute and available.
And then, in my early 20's, it happened! I met my Prince Charming!  Yes!  The man who was going to make everything better, the one who was filling in the hole inside me had finally arrived!. It felt like he was fixing everything and that I would live happily ever after!  I could not stop thinking about him.  And after only 3 months, I wanted to marry him. I was so infatuated with him.
Fast forward 8 years of gruelling on-and-off again with him, he ended up leaving me for another woman. I was devastated! Because I had put him on such a pedestal, I inevitably ended up 'in the gutter': This just further solidified my fears about 'love'.
I became terrified of relationships. I never wanted to be that vulnerable again, yet a part of me yearned for one more than anything else in the world.
Sound familiar?
My "A-HA!" Moment
After a long while of wallowing in misery, I had an 'A-HA' moment!
It wasn't what anyone had ever done to me that lead to this devastation… IT WAS WHAT I HAD DONE TO MYSELF!  
This lead to years of research and self-exploration during which I discovered that there is a CRITICAL DIFFERENCE BETWEEN INFATUATION AND LOVE.  This was one of the reasons my relationships were doomed from the start.  It was at this point that I was able to begin to connect with and live from my heart.
My Life Changed Drastically (so will yours!)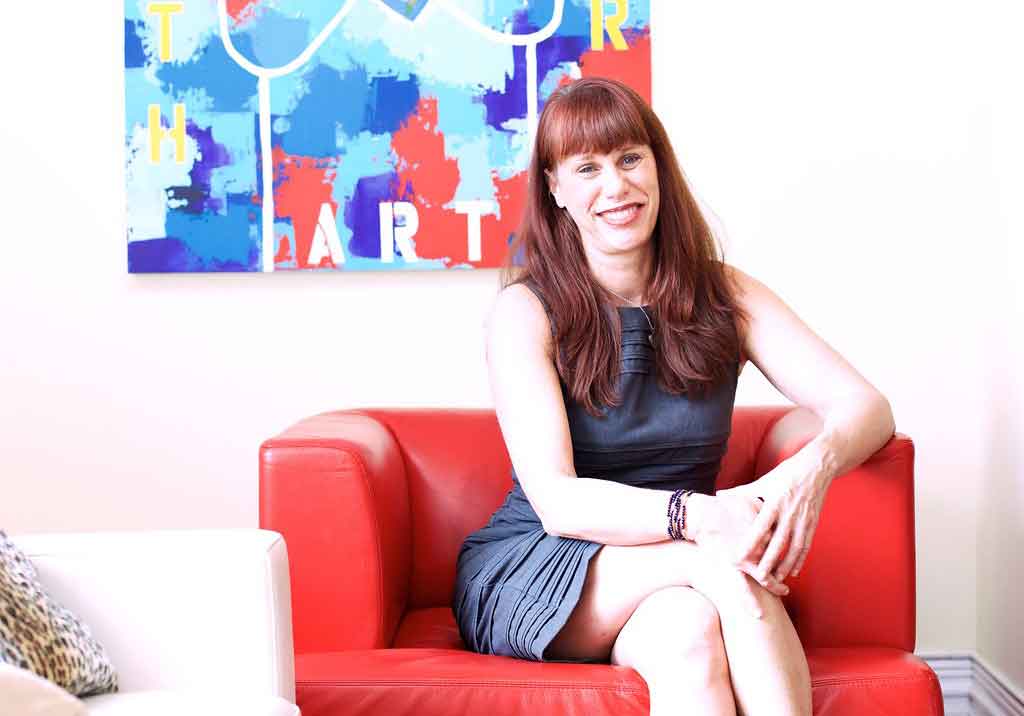 I feel blessed to live the life I live. I have love in my life and the hole inside me is gone. I have an inner peace that brings such gratitude to me.  Naturally, I face challenges like everyone else, but I am able to rebalance myself a lot more quickly as each year goes by. I have a really keen understanding of the subconscious stories we all carry around with us that hinder us from connecting with our hearts as well as how to free ourselves from it and thrive again!
I've realized my dreams — I've authored two books and established the Centre for Heart Living in Toronto, Canada where I've literally helped thousands of people in situations similar to mine (and yours).
Many of my clients shifted from "Life is not working and I'm unhappy" to living from their heart and experiencing happiness, true success, love and gratitude.  And I want to give this experience to as many people as possible. That's why I'm so happy to launch our SOUL WORTHY LOVE online program — a six-month, affordable coaching program with lots of one-on-one help so that YOU can do the same!
One of the most important things you will discover is:

LOVE IS SAFE. If it doesn't feel safe, then it's not love — it's need!  And during your time in SOUL WORTHY LOVE, you will learn to easily identify and be guided by this principle, how to connect with your heart so you can use it to guide you to increase love for yourself, your partner and others.  In the end, you will feel happier and have TRUE inner peace.
Imagine what your life would look like if
you woke up in the morning…
This is just a temporary blip in your life and it's actually a catalyst for its transformation.
Deep down this is happening FORyou, not to you.
You had to be taken out of the relationship for your own safety, to get on the path you're actually meant to be on.
That you are loved.
You can now give to yourself what you used to search for in others to give to you: No need for others' validation.
Felt proud of yourself and were being productive because you are stepping out of your comfort zone and doing what needs to be done.
The Soul Worthy Love Difference
Unlike programs that charge $5,000.00 and up, but don't offer any one-on-one coaching and support, the SOUL WORTHY LOVE program is much more economical and is PERSONALIZED for your unique situation.  You get the help YOU need with me or one of my heart-centered coaches through ONE-ON-ONE as well as group coaching sessions where you can ask any questions you have.
We also help you find and dissolve the limiting subconscious beliefs and old stories that are sabotaging you, without you even being aware of them, that are preventing you from having love in your life.
NO ONE ELSE OFFERS SUCH A HIGH-QUALITY PROGRAM OUT THERE FOR THIS LOW COST!
Who Should Join the Soul Worthy Love Program?
This program is for you if:
You are tired of suffering and finally ready for real love

You are spiritually-minded and willing to let go of blame and guilt and be grateful instead

You are committed to take actions to find happiness and bring a spark back to your life

You want to trust that you are making the right choice because you don't trust yourself right now

You know you have subconscious beliefs holding you back but can't seem to be able to change them

You don't feel lovable or good enough
Why Other Solutions Have Not Worked For You
You've tried self-help books, talking to your girlfriends, reflecting on the problems in your past relationships, maybe even tried another program, but you're still stuck and unhappy.  Here's why those other methods haven't worked: they did not focus on the key elements that are part of my SOUL WORTHY LOVE program, like:
Helping you identify and finally break free of limiting subconscious beliefs, old stories and self-sabotaging patterns that are preventing you from having love in your life. No one else does that out there!
Access to coaching: Without coaching you are left with blind spots and can't find your way out of what got you into trouble in the first place.
Teaching you easy but fundamental principles like understanding the difference between emotional infatuation and love. This is so very important! Not knowing the difference is what gets you in trouble!
Getting you to admit and be crystal clear about what you would really love to create in your love life – from beautiful personal relationships to sustainable action that are completely aligned with your values.
It's Not Your Fault.  Don't Beat Yourself Up!
No one is born with the "how-to" manual on how to love.  But know that love is more than a feeling: Love is who we are at the core.
You were not taught anything about the fundamentals of love. As children we need to surrender ourselves to our caregivers to survive.  The way your parents reacted or did not react to you gave you a sense of your worth that may not be what you need to feel whole and happy to be you. These beliefs, positive or negative, were reinforced by all the other interactions you have had in your life: The truth is that everyone is so busy with their own lives and stories that it puts you at the mercy 'of the winds' when you look at others to dictate your worth.

This scenario is the case for most of us.  This is what makes it difficult to find the perfect mate, learn how to be in a healthy committed relationship, and know what is important to you and what love really is.  So it's not your fault that your relationships have failed.  
With the expert guidance you will get from Soul Worthy Love, you will find what it is that your heart has actually been yearning for.
Healthy and loving relationships are less about finding the "perfect soulmate" and more about finding the connection with your own heart, your own soul.

Here's the simple truth… If you don't face your fears, feel worthy of love and figure out how to let go of stories from your past experiences, finding the love that is right for you and the relationship you deserve will be unlikely.
I'm here to help you find the love you deserve, once and for all.
How You Will Get Our Help
| | |
| --- | --- |
| | PRIVATE COACHING CALLS:  Six 30-minute one-on-one coaching calls with me or one of my Heart-Centered coaches |
| | AUDIO LESSONS:  Twelve recorded audio lessons, 60 minutes each of in-depth, step-by-step guidance to fast-track your success that you can listen to as often as you need to. |
| | STEP-BY-STEP WORKBOOK: An easy-to-follow workbook full of exercises to help you deeply experience the material in the program. |
| | SUPPORTIVE COMMUNITY:  A supportive community of heart-driven people: This is a private, members-only group.  This is our special place to gather, share, inspire and connect. |
| | MEMBER CARE: Compassionate member care:  If you have any technical questions about the program, a member of my team will reply promptly and be happy to help. |
| | A SPECIAL BONUS!  You will receive a copy of CONVERSATION WITH THE HEART (ebook and audio [digital download]) |
What You Will Learn
| | |
| --- | --- |
| | MODULE 1: Bring love back into your life – You learn what love is and what love is not: the basic principles about consciously loving relationships. Gain clear understanding of healthy expectations about relationships and what love is for yourself and your partner. |
| | MODULE 2: Discover what makes YOU really happy – You discover and dissolve beliefs that are creating insecurities about your worthiness of finding someone that can love you. You experience the Heart Freedom Method to solidify your self worth and know that you can choose the right partner. |
| | MODULE 3: Let go of limiting beliefs – You learn strategies on becoming your own best friend so you have healthy inner dialogue that increases your self worth and confidence in relationships. |
| | MODULE 4: Rewrite your story – Understand the reasons why you are challenged in your communication. Learn better ways to communicate and listen effectively. Learn a simple method to guide you through conversations that increases intimacy instead of distance. |
| | MODULE 5: Create your passionate life – You learn the difference between needing someone and loving someone so you don't fear abandonment and/or losing yourself in a relationship. You understand the dynamics behind these two fears so you can overcome them. |
| | MODULE 6: Live True Love – You understand the importance of knowing your values and the other person's values, so you don't feel betrayed, emotional and hurt when they are unmet.  You get guidance with 5 points to look for in a conscious loving relationship. |
Frequently Asked Questions
How is this different from other online programs?
Unlike programs that charge $5,000.00 and up, but don't offer any one on one support, the SOUL WORTHY LOVE program is PERSONALIZED for your unique situation.  You get the help you need with me or one of my heart-centered coaches, ONE-ON-ONE as well as group coaching sessions where you can ask any question you have:  We also help you find and dissolve the limiting subconscious beliefs and old stories that are sabotaging you, without you even being aware of them, but that are preventing you from having love in your life.  NO ONE ELSE OFFERS SUCH A HIGH QUALITY PROGRAM  OUT THERE FOR THIS LOW COST!
How long will it take before I get results?
That all depends. If you are committed, focused and invest time in doing the work, participating in the coaching calls and completing the exercises outlined in the program, you will begin to see transformation really quickly.
I'm here to help you find the love you deserve,
once and for all.  It's my life's mission!
If you want to further discuss enrolling in SOUL WORTHY LOVE, call us at 1-416-405-9478 or email us at support@drlisejanelle.com.
Much love,
Dr. Lise
Pay in Full and Save or in 6 Easy Payments
When – Start Today!
Classes Every other Monday at 7 pm
Live Q&A Call every other Wednesday at 12 Noon
Where:  From the comfort of your home or office
How:  via phone or webcast and recordings
When you join, you get access to your own individual portal for handouts, class/webinar links, call-in details, and recordings.
One-on-one coaching each month
Supportive group coaching and online forum
Guarantee:
Feel confident with your purchase with our 30 day guarantee.  If you complete all of your homework and find you have any transformation within the 30 days of your purchase for a full refund or a credit towards another course of the same value.  Please note that no refunds will be issued after 30 days of purchase.